Remaining Safe + Secure
The center reopened in August 2021 committed to safeguarding the health and well-being of everyone who walked through the doors. While our COVID-19 response has continued to evolve under the direction of the University, our obligation to you won't waver.
Continue referring to center guidelines before visiting. Together we will remain safe and secure.
Vaccinated Campus
Notre Dame faculty, staff, and student requirement with few exceptions.
Verified COVID-19 vaccination rate tops 90%.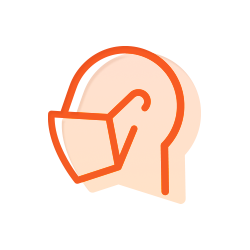 Masks
Masks are optional.
Disposable masks remain available for the time being. It is possible an artist or event may still require masking.
Contactless Options
Mobile tickets are available online and
through DPAC's free app.
Digital programs are available from select presenters.
Worry-free Refunds + Exchanges
Please contact the Ticket Office if sick
or have symptoms (fever, cough).
Cleaning + Sanitizing
Regular cleaning of lobby and venues.
Touchless sanitizer located at entrances.
Touch sanitizer located in high-traffic locations.
HVAC
Industrial MERV-13 or MERV-14 filters maximize
fresh air circulation at the center.
Frequently Asked Questions
Do I have to wear a mask?
Masks are optional. Those that choose to wear a mask are welcomed and respected. Disposable masks are available for the time being if you forget one.
Is there reduced seating capacity at events?
The center is operating without social distancing and at full capacity.
Are you offering concessions?
The center's main and cinema concessions return with the 2022–2023 season.
How do you handle refunds?
If a paid, ticketed event is canceled or postponed to protect public and community health, those funds are automatically credited to your DPAC account for a future performance. Patrons may request a refund to the original method of payment if they prefer. Refer to Ticket Information for details.
What if I'm sick and have tickets to an event?
If you or someone in your party is experiencing symptoms of COVID-19, are awaiting test results, or have tested positive, please stay home. Email or call the Ticket Office at (574) 631-2800 and we will gladly arrange an account credit, refund, or exchange.
Where can I find more information about the University's policies?
Visit covid.nd.edu for Notre Dame's current policies.
How can I reach the Ticket Office after business hours?
Call the Ticket Office at (574) 631-2800 and leave a message or email performingarts@nd.edu. You'll receive a response within two business days.
What's the best way to stay up-to-date on DPAC news and events?
Follow us on Facebook, Twitter, Instagram, and YouTube. Download the DPAC app. Then, sign up to receive our weekly email newsletter.
Questions about Presenting Series Events
Will I receive a Presenting Series season brochure?
The 2022–2023 season brochure is now digital-only and is available online. Please check our Presenting Series page for event updates.
When do Presenting Series tickets go on sale?
Presenting Series single ticket sales begin August 1. Season tickets are on sale June 20–July 21. Visit our Events page to view all events happening at the center. Download DPAC's free app and allow notifications to not miss upcoming events, news, and special offers.
Will events continue to be postponed or canceled?
The response by artists, as well as the University, to the coronavirus pandemic, remains dynamic. Any decisions would be announced via the center's website, email, and social media.
Updated: June 15, 2022